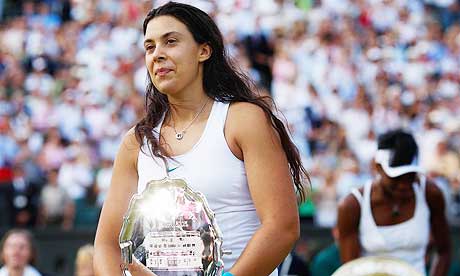 Marion Bartoli may not be one of the more popular players in the WTA Tour but I've always liked her quirky serve, her double-handed backhands and the weird stuff she says during her interviews. I was actually flabbergasted as to how she handed Justine Henin, that spectacular loss in that memorable semifinal match in 2007!
This year, she's on a bit of a roll, getting to the semi's of Roland Garros and winning Eastbourne last week, in a field which included the Clijsters and the Williams sisters. She did not meet any of them though.
So now, on this side of probably the toughest segment among the four in this year's draw, I am picking Marion Bartoli, as the most likely player to make it to the semifinals!
It's a tough draw since there are two, equally deserving players who can as easily be on that spot. Li Na, who just won the French Open, and the comebacking Serena Williams, who has held several Wimbledon championships. Li Na will probably be Marion's opponent in the quarters while it will be Serena in the fourth round. The only reason I am choosing Marion is her current performance on grass is arguably the best among them three. And I also think she now has that mental mettle to tough it out even when the situation is difficult for her. The only nagging question on my mind now, is if she has enough physical stamina to last this first week, considering how tough her opponents are, at this early stage.
Did I tell you that Agnieszka Radwanska, Maria Kirilenko, Ana Ivanovic and Flavia Pennetta are also on this side of the draw? See, it's not going to be a work on the park for any of these women. It's going to be a real slugfest just to reach the semifinals!